Perfectly Designed for FTTx Applications
PLANET EPL-2000 is a GEPON Optical Line Terminal (OLT) designed especially for Point to Multipoint (PtMP) FTTx applications. The EPL-2000 is equipped with two GEPON ports, two Gigabit SFP uplink Interfaces and one management port in the 1U height case. With friendly centralized GUI management, it is easy for installation and maintenance of GEPON deployment. When functioning with PLANET GEPON Optical Network Units (ONU) EPN series, the EPL-2000 provides highly effective GEPON solutions for broadband network.

High-speed and Long-distance Coverage for Triple Play Services
The EPL-2000 is in the PLANET Gigabit Ethernet Passive Optical Network (GEPON) solution family that provides a high bandwidth of up to 1.25Gbps for both upstream and downstream, and a long-distance coverage of up to 20km between equipment nodes for network deployment. It can fulfill the increasing demand for the home multimedia and entertainment areas.
The EPL-2000 makes many multimedia services come true on FTTx network such as:
| | | |
| --- | --- | --- |
| | ■ IPTV, Smart TV and HDTV | ■ On-line Game |
| | ■ VOD (Video on Demand) | ■ Internet Radio / On-line Music |
| | ■ Voice over IP | ■ Long-distance Education |
| | ■ Video Conferencing / Video Phone | |
The EPL-2000 offers an excellent bandwidth of the reliable and scalable network to satisfy the triple play devices for home entertainment and communication.
High Split Ratio / Cost-effective Network Connection Solution
With high split ratio at 1:64 and two PON ports equipped, the EPL-2000 supports the deployment of up to 128 PLANET ONUs which can minimize the investment cost for carriers. GEPON is a point to multipoint communications protocol based on Gigabit Ethernet. It allows a Gigabit Ethernet communications fiber to be shared by multiple end users using a passive optical splitter. Each PON port of the EPL-2000 is available for a maximum of 1:64 WDM to transmit data based on forming fiber web via fiber and 64 GEPON long-distance ONU equipment. Therefore, the EPL-2000 offers the network users the benefits of great capacity, excellent secrecy, web-grouping flexibility and saving the line resources as well as the quantity of end equipment.
Excellent Traffic Control
By integrating the advanced technology in the telecommunication industry, the EPL-2000 provides strong functionalities for Ethernet features such as VLAN, Multicast, DBA (Dynamic Bandwidth Allocation), and Access Control List. The EPL-2000 is an ideal solution for FTTx applications.

High Scalability and Flexible OLT Maintenance
For efficient management, the EPL-2000 supports remote management functions. Via its user-friendly GUI utility, the administrators can manage and configure the OLT and ONU equipment on the central side. The GUI utility supports up to 32 EPL-2000 OLTs to be centrally managed through one control screen. The built-in Element Management System (EMS) offers an easy-to-use management and configuration facility to add to or remove PLANET OLTs and ONUs from the network architecture easily and economically. Its great flexibility is perfect for deployment among different network architectures. The EPL-2000 also supports standard Simple Network Management Protocol (SNMP) and can be managed via any standard-based management software.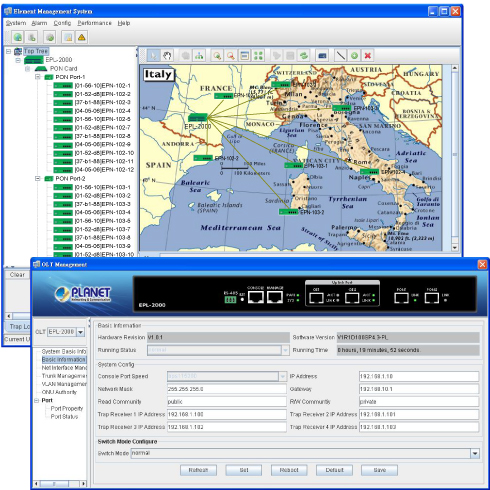 Robust ONUs Management
The EPL-2000 supports many operating and monitoring functions for efficient ONUs management, such as ONU auto-detection, auto-registration, testing link connection, binding MAC address and filtration, QoS, bandwidth control, flow control, and multicast stream control.

Flexible and Extendable Solution
The two uplink mini-GBIC slots of the EPL-2000 are compatible with 1000BASE-SX/LX and WDM SFP (Small Form Factor Pluggable) fiber-optic modules. The distance can be extended from 550 meters (Multi-mode fiber cable) up to 10/30/50/70/120 kilometers (Single-mode fiber or WDM fiber cable). They are well suited for FTTx applications to distributions data link.